THE ART OF GLASS BEADS BECOMES INTANGIBLE CULTURAL HERITAGE FOR UNESCO
The Art of the Glass BeadMaking has been officially registered in the Representative List of the Intangible Cultural Heritage of Humanity protected by UNESCO.
For the first time, what has always been clear to those who are part of this lively and vibrant world is officially recognized: glass beads have always built bridges between different cultures and created communities.
Indeed, one of the fundamental reasons for the choice of UNESCO is the proven cultural exchange and knowledge that still today make it a shared and lively practice.
THE ART OF GLASS BEADS: ANCIENT ART
This ancient art that is still handed down with passion today has been and still is an integral part of the human fabric of Venice and Murano and the recognition of UNESCO will give us even more strength and determination in protecting it and spreading the numerous knowledge that rich and varied practice.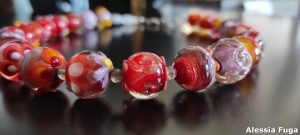 Knowledge that concerns not only the creation of the single glass bead but also all the processes that are linked to it and all the professional and human figures that move around it.
Glass beads have always been the protagonists of my Bead Maker work and I have always considered them creations completely comparable, in terms of expressive value, to perhaps the most famous furnace ones and seeing them recognized with such an important role is even more a confirmation that glass beads are destined to remain for a long time protagonists of the tradition and of the future of Murano glass processing.
THE FUTURE FOR THE ART OF GLASS BEADS
My wish is that even in the local community we will be able to see how important the sharing of knowledge is in order to keep a tradition alive. And that tradition can be put in support of contemporaneity. One does not dominate the other, but enrich each other and coexist in a single rich rainbow of possibilities.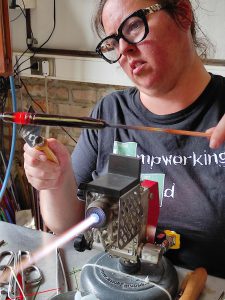 Special thanks go to the Committee for the Safeguarding of the Art of Venetian Glass Pearls for the splendid work done, for the passion, time and commitment that led to this historic result.
Historic not only because for the first time Venice proposed an intangible international candidacy (with the community of French Bead makers) but also because the decision taken during the UNESCO session of 17 December 2020 recognizes the ability to make glass beads what has not yet been , but we hope it will soon be recognized to the Murano glass processing in general.