The lampwork technique is the glasswork where you melt a glass rod into the flame of a torch. Then you form the glass by blowing and shaping it with tools and hand movements. Early lampworking was done in the flame of an oil lamp. Today most of the lampworkers use torches that burn propane or natural gas as fuel, and oxygen or air as the oxidizer.
GAS-AIR TORCH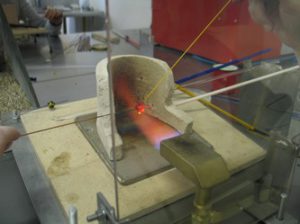 This is the traditional torch used by the venetian beadmakers since the ancient time. Since the XVI century beadmaking, in Venice, was made by housewives, widows or daughters of a glass masters  and to make the typical venetian beads (sommerso oro, mosaico, fiorate) beadmakers used this kind of torch. As you can see from the pictures below this torch need a special setting to have enough heat to melt the glass rods.

GAS-OXYGEN TORCH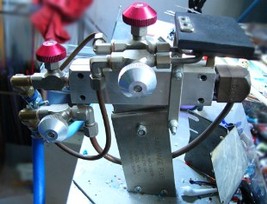 Much more used today from most of glass artists is the gas-oxygen torch. You can use both propane or natural gas as fuel and oxygen from a tank or from an oxygen generator as oxidizer. With this torch you have a direct, adjustable flame that allow you to melt the glass quickly and also to shape the glass with movement or tools near the flame. I have, and use to work, a Nortel mid-range plus(the torch in the picture). This torch has a large, round, twenty-two (22) fuel port burner that produces a large, hot flame ,while not being so large as to be unusable.
Mounted just above the main burner is an independently controlled Minor Burner. This gives me a smaller, pinpoint flame for my detail work.
Some other torches used in Venice are the "Carlo Donà " torches or the Lupatin torches. Both work very well.

GLASS
As I always love to say, I use only Effetre glass (I love it's made in Murano 🙂 )  to create my beads and objects.
Usually for lampworking you will use glass shaped in rod of different color and size.
You can find different kind of glass from different suppliers all around the world.The only thing that you have to pay attention when you purchase glass is to choose glass with the same COE(coefficient of expansion).
Effetre's COE is 104(as well of Vetrofond, and some other "soft glass").
TABLETOP
The floor and tabletop should be heatproof. It's recommended to use a sheet of metal as surface
The work surface that I recommend to use on the table is a piece of sheet metal. I personally  prefer stainless steel because it is easy to keep it clean.
 TANKS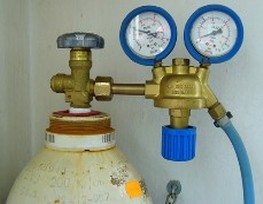 Carefully follow any manufacturer's instructions that come with your regulators or gas tanks. Never move oxygen tanks without their protective cap in place. If the tank falls over, the valve stem can be sheared off by impacting against a table or other object. The pressure inside the tank may then be high enough to send the cylinder flying like a rocket, injuring you and damaging your building.
Oxygen tanks should be either laid on their side and secured to prevent rolling, or chained securely to the wall so they don't fall down.
Note also that oxygen regulators, hoses and fittings should never come into contact with grease, which can ignite
spontaneously in the presence of pure 02.
Be sure to install check valves on your fuel gas and oxygen regulators, to prevent backwards flow of glasses.

VENTILATION
Melting glass in a flame produces a number of gasses and vapors which can affect your health. It is important, therefore, to ventilate your work area. Windows at opposite ends of your work area, one of which has an exhaust fan, can be an effective form of dilution ventilation. Some lampworking operations may require "local exhaust ventilation", such as a fume hood, to eliminate hazardous or irritating vapors and gasses. Or another simple solution is get an old kitchen range hood with a fan and a light installed in it. This can be mounted about
three feet above your torch and vented via flexible exhaust pipe to the nearest window or chimney. Make sure that you have make-up air coming into the room from a location that won't cause too much draft.
EYE PROTECTION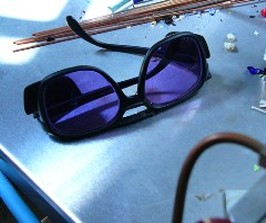 Eye protection is very important in lampworking. You must protect your eyes from flying pieces of hot glass(yes, glass may shatter when put into the flame) The most famous eye protection for Beadmakers is "didymium" glasses, which filter out the distracting yellow glare given off by molten glass.

TOOLS
Tools
• stainless steel mandrels(various thicknesses)
• didymium safety glasses
• needle nose pliers
• steel tweezers, cheese-knife, dental picks, etc.
• frit holders(jars,spoons,etc.)
• graphite paddle and/or torch-mounted graphite marver
• spark striker
• ceramic fiber blanket
• dremel drill and drill bits